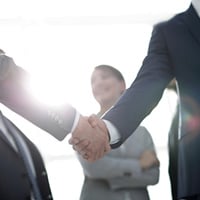 Lexington, KY – January 30, 2018 – AVAIL and ArchVision announced today that both companies have made new hires to augment their executive lineup. Corey Rubadue joins ArchVision as Chief Executive Officer and Jim Clifton joins AVAIL as Chief Operating Officer.
Mr. Rubadue has refined his knowledge of visualization development and software engineering during his experience with ASGVIS and Chaos Group. First-hand knowledge of the challenges faced in architecture led to the founding of ASGVIS in 2005 and pioneered the integration of the V-Ray renderer into SketchUp and Rhino. ASGVIS was acquired by Chaos Group in 2011 and Rubadue and his team continued to refine the software. In late 2016, he oversaw the launch of V-Ray for Revit. In August 2017, Rubadue founded Oonix Solutions LLC to expand his focus on visualization to support a broader range of technologies and applications.
"I've always had a great appreciation of the ArchVision technologies," says Rubadue. "Joining ArchVision is a strategically aligned fit with where my professional sights are set."
"Corey's expansive experience in the visualization industry is unmatched and he brings a wealth of partner relationships he has developed over the past 15 years in the field. I'm looking forward to having Corey at the helm of ArchVision and know that he will lead the company to the next level", said Randall Stevens, founder of ArchVision.
In Mr. Rubadue's new role as ArchVision CEO, he will oversee Product and Content development, Sales, Marketing and Personnel.
Mr. Clifton comes to AVAIL most recently from Bluegrass Vascular Technologies where, as Chief Operating Officer/Founder, he developed technology from product concept to regulatory approval to initial market launch. With over twenty years of experience in software product management, Jim provides energy, drive, and creative force to early-stage, complex technologies.
"Jim's experience with every phase of the product development process makes him the perfect candidate for his new role as Chief Operating Officer", said Randall Stevens, CEO of AVAIL.
Mr. Clifton will focus on developing and refining AVAIL's go-to-market process and provide oversight for Sales and Marketing, Operations and Finance.
About ArchVision
Founded in 1991, ArchVision improves design modeling and visualization with RPC technology that provides architectural entourage in the form of people, tree & plant and automobile content and environment clutter. The newest product to the ArchVision lineup, Family and Detail Warehouse, is a collection of over 27,500 Roof, Window, Door and Foundation details, available as native Revit Drafting Views and AutoCAD DWGs, with unlimited downloads. ArchVision currently serves customers located in over 100 countries. For more info visit www.archvision.com.
About AVAIL
AVAIL's enterprise and content management software solution indexes content and helps users find it in new ways. Based in Lexington, KY, AVAIL grew out of a need for a better way for AECO professionals to access the voluminous content being managed across their enterprise. With over 50 combined years in the AEC industry, the AVAIL team is passionate about helping firms discover a new way to find and manage content. For more info visit www.getavail.com.