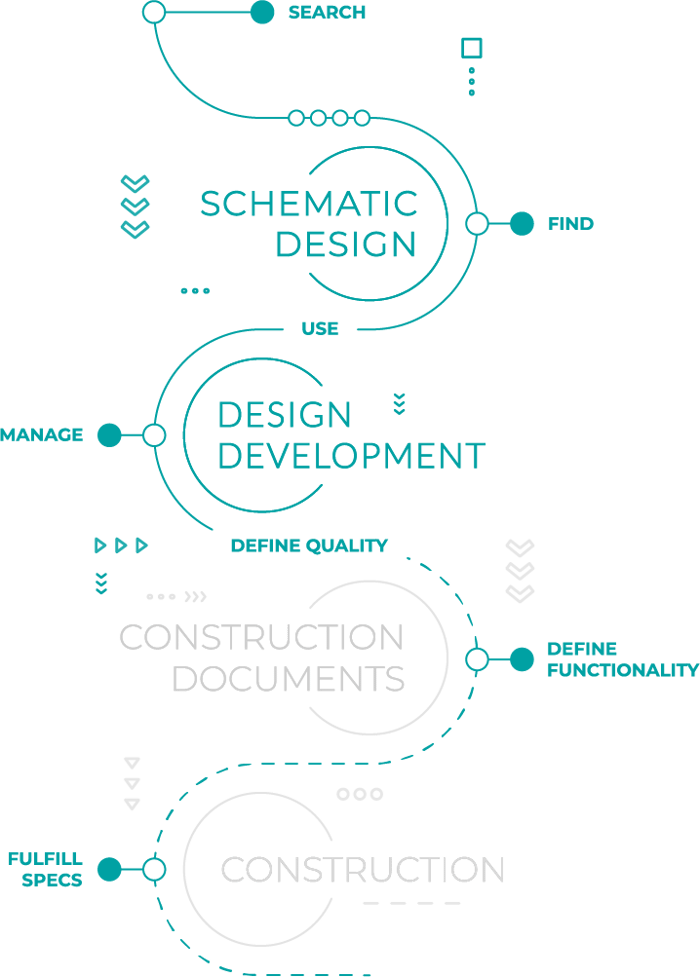 The most common system that serves both as a content management and a knowledge management system is the old school Windows File System and it is holding A/E/C/O firms back from working faster and making smarter designs.
"Content Management" is a loaded term. So, let's begin with a simple truth – you are swimming in data buried in thousands of files across your network, most of which haven't been touched in years. Knowledge is stuck and cannot be found. Time is wasted, work is recreated, and project experience is lost because these assets are hidden or inaccessible within archaic file systems, previous projects, and invisible data stores.
Today, Architectural designers work on complex projects with massive amounts of digital information. Finding what they need, reusing what has previously been created, and collaborating with colleagues is notoriously difficult. These challenges only increase when teams are distributed and inter-company, which is now the norm.
The A/E/C/O industry needs to rethink the way we organize, communicate about and work on projects – all the way through the entire life of a project. The following white paper outlines the framework of the Project Lifecycle and how AVAIL is working to make that process smarter, more efficient and easier.
The Project Lifecycle as a Framework
The lifecycle of a project contains three primary phases: project setup, project design, project archiving. In each of these phases, content management and knowledge capture are essential to achieving customer-centric designs while meeting schedule and budget constraints.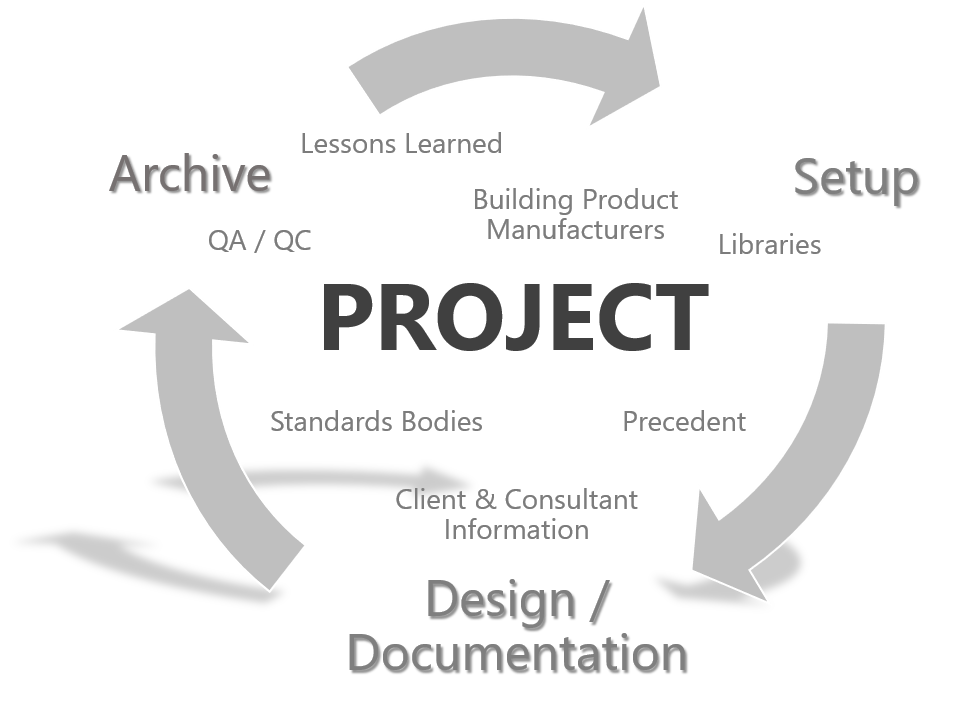 Content is constantly entering the Project Lifecycle and most likely stored somewhere on a network in a series of file folders. Best practices revolve around standardizing a hierarchical folder structure on a file server that acts as the outline for storing all data. This practice is daunting, confusing, ripe for error and inefficient. And worst of all, this process is commonplace and accepted.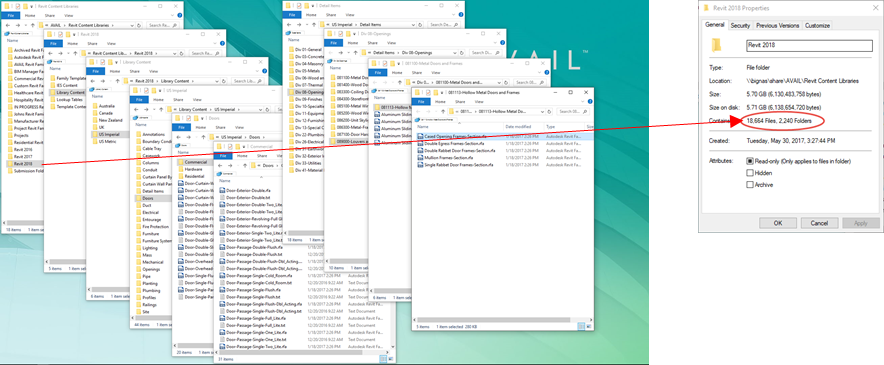 Only 2,240 folders to search through, and that's just one library
Projects as the Core Driver
The lifeblood of a firm's operation is the Project. Firm practices have been geared around making the design process as smooth and efficient as possible.
Most teams start a project with a set of predefined content. This is where Libraries come into play and, given the choice, firms would like to reuse as many assets as possible.
Project Setup – Phase 1
The majority of the content that is needed in any given Project already exists, with a smaller amount needing to be created from scratch. Most firms maintain relatively static Libraries to feed this need. The library may grow or shrink to remain relevant but the content is not often edited.
Firms want to reuse as many assets as possible. Recreating content is not only expensive but also opens the potential to introduce new errors. This is why centrally organized libraries are important to the overall efficiency and quality of the work-product of production teams.
A major challenge with storing content Libraries on centralized networks is the limitation placed on using file folders. Users are forced to decide where content has to be stored based on a rigid, hierarchical, folder-based system. This is why content is often "lost". A file location that makes sense today might not make sense two months from now. The context for storing content is not always the same context for retrieving it; and thus, file folders are the prime enemy in executing a successful content management strategy.
Searching for content is a contextual exercise. A special challenge in this industry is that many people find it is often easier to re-create the content because they think it will take longer to locate it on their network!
The answer to more efficient content management is tied to separating storage from retrieval. The challenge is to break away from the outmoded practice of trying to retrieve information from the hierarchical system we have all grown accustomed to called file folders.
Research
During a Project Lifecycle, teams must identify and integrate numerous internal and external sources of information. Content sources include internal Libraries of families, photos and templates and external content from Building Product Manufacturers (BPMs), standards bodies, clients and consultants.
Precedent
One of the most important activities for designers is access to Precedent materials. Efficiently finding, storing and organizing these materials is difficult and time-consuming. When those materials are easy to find they spark the imagination and improve both the quality and speed at which the project can be delivered.
But in actual practice, a project's Precedent materials usually end up in a local "stash" on the researcher's computer, never to be seen again by anyone.
Project Design – Phase 2
The project design phase introduces a new challenge — the creation of orders of magnitude of "new" content. The content being produced is "new" and therefore more difficult for the organization to recognize, understand and assimilate. This content is critical to the current Project and Workflow, is temporal in nature as it relates to a specific Project, and may or may not be relevant to future Projects. Left alone, this content contains no knowledge, is trapped on the network and will be ignored.
Project Communications
Most AEC workflows continue to rely on email to move data and processes along the Project Lifecycle. This disjointed and "out of band" communications is how most of the relevant knowledge about project-related content is moved around between interested parties. Once content has been created, the presence of this new project-related content should trigger the next step.
Project Archive – Phase 3
Archives are the most underutilized asset firms possess. Old project files are locked in antiquated directory structures and not connected to team members, thereby limiting the archive's ability to be leveraged to improve future designs and processes. The team moves on to the next project with every intention of properly shutting down the last one, but rarely does anyone ever get to that task.
Those old Projects are like buried treasure chests hidden in some remote, forgotten location, with Project Managers hoping of returning to someday to get rich. Proper archival processes at the end of each project should surface enough value to offset the time needed to perform the task. Improving the process of properly closing down and archiving Project data can help build strong central Libraries to be referenced and used on future Projects.
A significant challenge for BIM Managers is determining what content is new, and more importantly, weeding out what is project-specific versus what would be valuable in a Standards Library. It may also be meaningful to know what content from a Standards Library has been edited and where that edited content is being used.
At AVAIL, we are helping firms make the most of their project-related content by making it easier to find, easier to share and easier to harvest for future projects.
Want to know more about how AVAIL is solving the Project Lifecycle problem? Check out the AVAIL Webinar Series or schedule a free session with a Content Management Specialist.