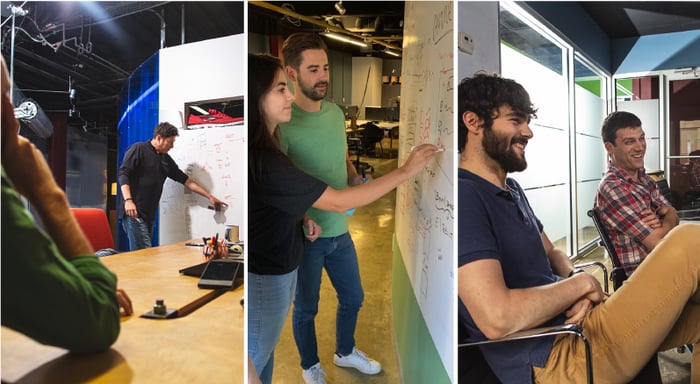 We recently worked with a client (Leo A Daly) on their story about how BIM Content Management gave them tools for collaboration in a digital world. I'd like to share some of the key takeaways that influenced their decision.
Making Revit Content Available Across the Business
At one of the world's top design firms, collaboration is a core value that requires an integrated approach across all their disciplines -- architecture, engineering, planning, interior design and program management. Yet when teams work on projects in over 90 countries and all 50 U.S. states, reliable access to approved content can be problematic.
As this global architecture and engineering firm found, these six considerations made the difference in adopting the AVAIL platform for managing their Revit content and conveniently, for many other types of content as well.
Prioritize for user experience and fast access to BIM content.
An interface designed with the designer in mind displays fast-loading thumbnails of any file type, across the network, for quick identification and use. Users get to what they're looking for much faster, allowing these highly paid professionals' time to be spent creating quality work, rather than chasing down content. Feedback indicates searches that took minutes in Windows Explorer took only seconds in AVAIL.
Count on analytics to provide user and process insights.AECO firms can find value in insights about design workflows and how content is accessed. With the AVAIL platform, administrators understand what's getting used and not used in order to build a knowledge base and manage intellectual property. Choosing a platform with robust analytics reveals opportunities by spotlighting areas for improvement.
Expect content management tools to assist with quality control and compliance.
A platform like AVAIL helps publishers control what content designers access, reinforcing the use of "approved" content and reducing inconsistencies and downstream risks. Re-introducing old or outdated files into projects is reduced and standards are reinforced by pulling from an approved content library.
Support content-driven workflows.
Improved access and sharing of data among teams and across networks helps build a content bridge across the entire design and construction continuum. When evaluating content management solutions consider a platform that supports content-driven workflows, allowing teams to keep valuable information connected to the content and out of detached communications, such as emails.
Breakaway from rigid hierarchical folder systems to a fluid search-based solution.
Accurate and intuitive search addresses one of the biggest concerns in BIM content management -- getting designers to the correct information. Traditional ways of storing content in file folder hierarchies lead to frustration and often futile attempts to locate what you need. Often files get moved or the original context of a file's location can become meaningless over time. Implementing a search-based solution, one with tag and filter capabilities that offers multiple ways to find content, not only improves user efficiency but also reduces the lost time associated with recreating information that can't be found.
Organizing content into searchable, customizable "channels" in AVAIL further enhances a user's ability to quickly filter down content, regardless of file type, location or function, wherever it resides on the network. And allowing a file to appear in more than one channel at a time means having to remember its original context is no longer required. Channels can also be actively managed by a publisher to control what content is seen and by whom, sharing only what consumers need when they need it.
Look for ways to use a platform beyond Revit and BIM.
As with many AECO firms, the initial requirement in a content management solution is the management of technical design data such as Revit families, sheets and schedules. A good CMS should allow you to go beyond those technical design assets and extend its value to every corner of your organization. Firms are often supporting between 100 to 200 different software applications and the resulting files across their workflows. Visualization assets including 3d models, materials and textures; generative design files and scripts from the likes of Rhino, Grasshopper, and Dynamo; marketing assets stored in Adobe Indesign, Photoshop and Microsoft Powerpoint; and extensive photo archives used to support everything from sales and marketing efforts to on-site construction documentation; are just as important (and difficult) to manage efficiently outside a robust content management solution.
In an increasingly digital world, AECO firms continue to explore and find new ways to bring BIM content management deeper into their teams and processes. As one client told us, "Uses for the platform and how to organize content are limitless." Learn more about this customer story. [URL]