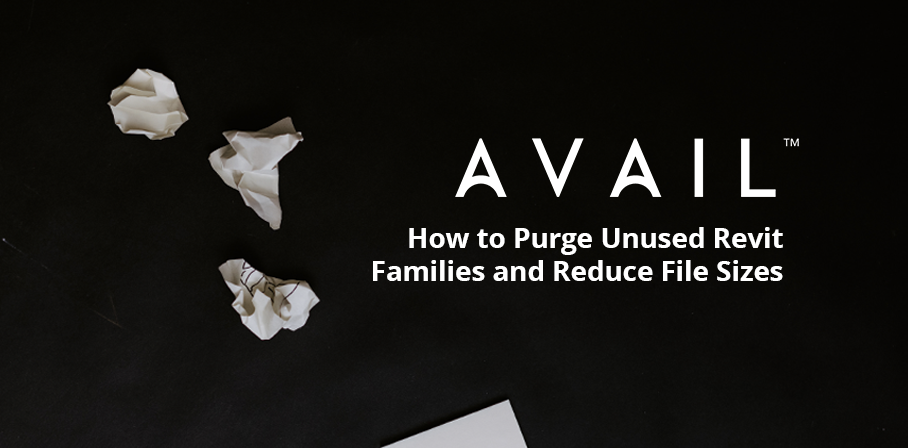 Tips and context on keeping Revit project files 'light and lean' from the AVAIL Team
If you've read our recent article about Optimizing Revit Templates, you know that AVAIL supports multiple strategies. Whether you prefer to purge content from a heavy template (subtractive approach) or add content to a lean template (additive approach), AVAIL is here to help.

When it comes to Revit file purging, you need to ensure that all your standard resources have a home: preferably where they can be easily referenced, transferred and replaced. This won't protect your Project Specific Content from an accidental purging, but it will ensure that your standard resources can be re-integrated. The following are some additional methods and practices you can consider for safe, effective purging:
1. Develop a Purging Protocol: The Purge Unused feature in Autodesk Revit removes all views, families, and other objects not currently in use in the model. How this process relates, or does not relate, to your team's workflows is something to be carefully considered. For many firms, Purge Unused is a prohibited command. For other teams, a strict purging protocol is put in place.
Products like Guardian by Iconic BIM can further help you tighten these controls at the project admin level. See our webinar on how AVAIL works with Guardian.
2. Have a Container Sheet or Container Group in Your Revit Template File: In order to ensure you are not removing any content prematurely, you can create a Container Sheet for any 2D elements and a Revit Group for any 3D elements that you want to remain in the file. Make sure that these elements are locked or pinned (using worksets or otherwise) prevents accidental deletion. The Purge Unused command will only remove elements that are not placed in the file, so these sheets and groups serve as 'lock boxes' to keep them secure.
3. Keep Your Revit Projects and Template Files Lean: A surplus of certain assets (like Typical Sheets) will be beneficial in almost any Revit Template, to prevent rework and facilitate organizational standardization. Ensuring that the file begins without too much additional 'fluff' will incentivize the removal of extraneous content as a regular practice, as opposed to a major bi-annual event. At AVAIL, we know the benefits of keeping things as simple and lean as possible - and encourage this approach for project files wherever possible.

To make the adding of new content as easy and intuitive as possible, check out our recently-updated Harvest 2.0 Utility, which makes managing individual Revit Families, System Families, Views, Sheets, and other content types a thing of the past.



Want to learn more about how we are changing the game in BIM Content Management? Check out the links below!

Prevent Duplicate BIM Content
How to Create a Revit Detail Library